Jorge I Acevedo, M.D.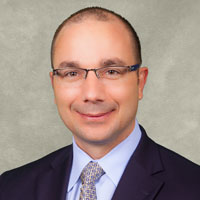 Jorge I Acevedo, M.D.
Dr. Acevedo is the chief of foot and ankle at Southeast Orthopedic Specialists and is the Director of The Foot &Ankle Center of Excellence.
After completing his Biomedical Engineering degree from Tulane University, he received his medical degree at the University Of Florida College Of Medicine in Gainesville, FL. He then completed his orthopaedic residency at Georgia Baptist Medical Center in Atlanta, GA and a foot and ankle fellowship at the Union Memorial Hospital in Baltimore, MD. Dr. Acevedo has special interest in arthroscopic and minimally invasive techniques in the foot and ankle.