Dominic S. Carreira, M.D.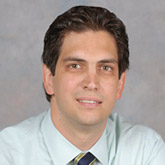 Dominic S. Carreira, M.D.
Dominic S. Carreira, M.D., a board certified orthopedic surgeon with advanced training from three orthopedic fellowship programs, specializes in foot and ankle, hip arthroscopy, and sports medicine, and is a team physician for a number of professional sports teams.
Dr. Carreira serves as a clinical instructor for the NOVA sports medicine primary care fellowship program and for the Broward General Orthopedic Residency program. He is an educator both nationally and internationally in the areas of athletic hip injuries and foot and ankle injuries.
Following his general orthopedic residency training, Dr. Carreira completed a Foot and Ankle Fellowship with Dr. Mark Myerson and Clifford Jeng at the Institute for Foot and Ankle Reconstruction, Baltimore, Maryland. He also completed a Foot and Ankle and Arthroscopic Fellowship in Seattle, Washington, and a Sports Medicine and Hip Arthroscopy Fellowship with the Steadman-Hawkins Clinic in Vail, Colorado.
Dr. Carreira has served as an Assistant Team Physician to both the U.S. Men's and Women's Ski Teams, Colorado Rockies, Denver Broncos, Chicago White Sox and the Chicago Blaze.
He is a member of the American Academy of Orthopedic Surgeons, American Orthopedic Foot and Ankle Society, Orthopedic Research and Education Foundation, American Orthopedic Society of Sports Medicine, Arthroscopy Association of North America, the International Society for Hip Arthroscopy and the NFL Team Physicians Society.
Active in medical research, Dr. Carreira has presented his work on minimally invasive arthroscopic techniques and outcomes both nationally and internationally and has been published in numerous medical publications including Foot and Ankle International and the American Journal of Sports Medicine.